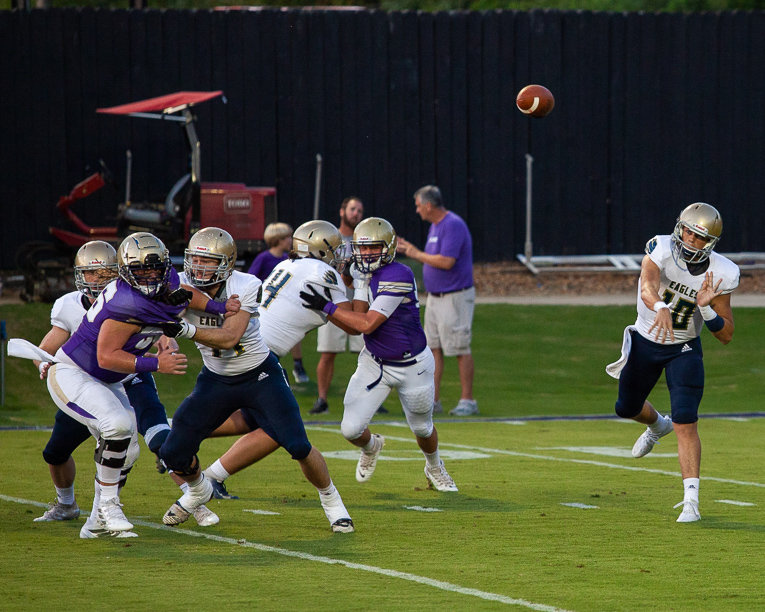 STORY BY CORY WOODROOF | PHOTO BY MATT MASTERS 
It's not that the Independence Eagles aren't the region favorites for no reason.
When you've got perhaps the best football team in the state of Tennessee on your schedule and jockeying with you for top positioning, you're just going to have to live with the outside expectations.
Ravenwood is an unwieldy cannon with maximum firepower; only the Raptors could casually have two college prospects at its defensive edge position and then surprise everyone with the addition of the state's top football player, a defensive edge.
They look just about as good as everyone thought. So does Brentwood, who has taken down both D-II AAA titan MBA and Class AAA threat Cane Ridge, who they've lost to in the last two years. The Raptors and the Bruins look like they'll duke it out for Region 6-6A supremacy.
Franklin and Centennial will always give you a headache, but look for those teams to vie for that last playoff spot, like they did last year. That leaves Indy as the predicted third, but you don't need to count out the Eagles just yet.
After watching senior quarterback Ethan Cash stand tall in the pocket in take down defending D-II AA state champs CPA on their home turf, you wonder just how far the signal caller can take this team.
Cash transferred to Indy from Summit and usurped incumbent starter and now-college QB Nathan Cisco (at Idaho) last season. His rocket arm and ability to find his guys open at the best possible times turned him quickly into one of the county's more dangerous quarterbacks, one always ready for a stat sheet bonanza at any given moment.
Added to his repertoire of talent is his renewed ability to use his legs to make plays. At CPA, Cash's scrambling did a nice job of keeping certain drives alive and helped the Eagles eat time off the clock and cap that with touchdowns.
"Just being more comfortable with the system," Cash attributed his growth as a runner.
His arsenal is better than expected this fall, with college recruit Chayce Bishop joined by names like Caedon Williams, Brian Pierce, Jaxson Campbell, Jack Phillips, Brigham Morrical and Ethan Pickering. All of those guys have been getting involved in the passing and ground game and make this Indy offense more balanced than thought.
The Indy OL has talent, too, and its defense looks improved.
The team's Week One loss to Summit was a bit worrisome, if only for the messiness of play. But Indy wound it back tight and fired off a road win to get them to 1-1. Getting these types of wins matter in spades come November.
Cash's leadership and talent was lauded by Eagles head coach Scott Blade Friday night.
"He's a mature kid," he said after the game. "He's an amazing competitor, a major competitor. We love having him. He is the leader of that offense, the undeniable leader of that offense. He's going to keep getting better and better."
His 24/7 Sports profile shows some interest from Louisville and Western Kentucky so far, but expect that list to grow and for some offers to roll in. Cash's arm is enough for a college team to give him a shot, but his intangibles and ability to expand his game should make him at least a three-star prospect.
The rest of the region knows not to sleep on Indy, but this time, it's not just because of the dynamic guys running their way. It'll be because of the one throwing the ball, who really might just make the region race a lot more interesting.
If Cash keeps this up, the Indy Eagles might shock us all and take a region title to the bank.