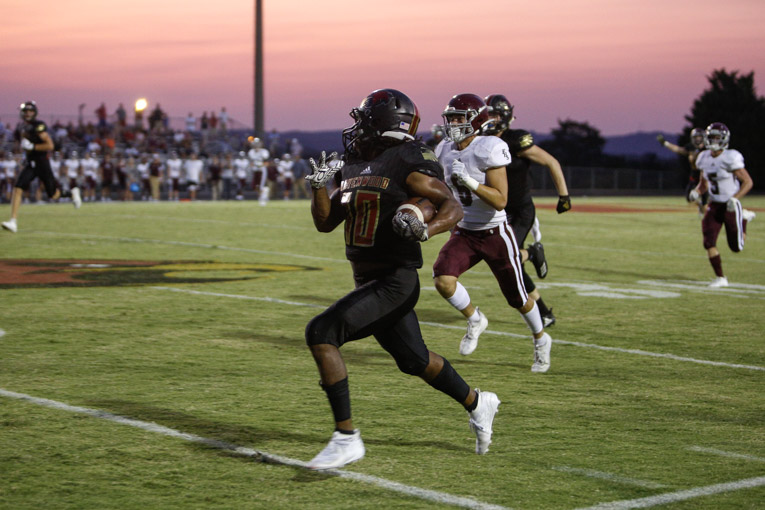 Running on Franklin's defense is not an easy task, but Ravenwood's Tony Rice was up to the challenge Friday night.
He ran for 134 yards and three touchdowns in the Raptors' 28-0 thumping of the Rebels, cementing his place as one of Williamson County's most dangerous running backs.
The Raptors are clear favorites to win Region 6-6A at the moment and have a good chance of making it to Cookville this December to contend for a state title.
"We've had that point in all three games so far where we just hit a lull," Raptors head coach Matt Daniels told us Friday night about the team's 3-0 start compared to last year's 3-0 mark. "We were able to hold on last week, with the early lead like we've done every game so far.
"With each week, though, it will help build towards becoming that complete team. Last season we hit our peak at the ring time in the season, and we're starting to build towards that this year."
Rice has been a large part of the team's success, earning him our City Cafe Player of the Week honor.
Honorable Mentions: 
Ravenwood QB Brian Garcia threw for 179 yards and rushed for a touchdown in the victory.
Page QB Cade Walker is having an outstanding season, and the team's wild victory over Shelbyville Central saw him once again shine. He threw for 220 yards and a touchdown and rushed for another in the win.
Patriots running back Bubba Johnson rushed for three touchdowns and 78 yards, and receiver Miles Bonn hauled in 117 yards and a TD.
Nolensville QB Ryder Galardi threw for four touchdowns in the team's win against Spring Hill, including two to Tim Coutras. He also had two picks in the game.
Indy QB Ethan Cash threw for 185 yards and a TD against Centennial, and rushed for another. WR Chayce Bishop hauled in 73 yards and a touchdown, and rushed in a second one.
Centennial RB Desmond Smith rushed for two long TDs in the game.
FRA's Jeffrey Vercher rushed for 206 yards and two scores in the team's loss to Lipscomb Academy. Teammate Kingston Gardner had 197 yards and a score.
LA's Jake McNamara threw for 126 yards and two scores, and rusher Jaden Lyles ran for two scores.
BGA QB Nick Semptimphelter threw for 187 yards and three touchdowns in the team's victory against Goodpasture.
Brentwood QB Cade Granzow rushed for a touchdown and tossed four more in the team's rout of Dickson Co. Aaron Walton hauled in two of those.
Fairview RB Logan Nardozzi had two long scores in the team's win against Chetham Co. Central. QB Anakin King tossed two touchdowns to Garrett Wooten.
Photo by Deb Scally.