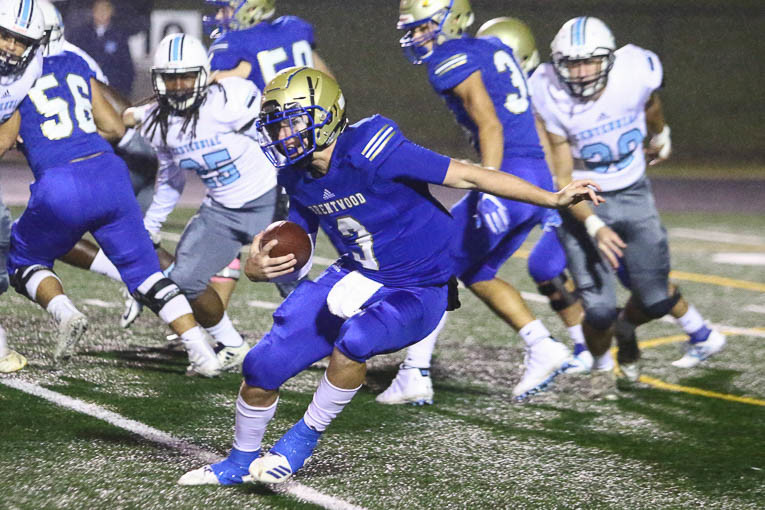 In what's shaping up to be another exciting season over at Brentwood High School, Bruins quarterback Cade Granzow's gritty close to a gripping 9-6 overtime win with MBA earns him our Player of the Week honor.
The junior Granzow still combined for 165 yards of total offense in a defensive-heavy game, and scored the game-winning touchdown, a walkoff scramble into the end zone to get Brentwood off to a 1-0 start and a win against a D-II AAA powerhouse.
The Bruins still have a long way to go this season, but Granzow's gutsy play to get the team a non-region win earns him our City Cafe Player of the Week honor.
Honorable Mentions: 
Fairview RB Logan Nardozzi ran for 159 yards in the team's loss to Page.
Patriots RB Bubba Watson hit the 100-mark on the night in yards on the ground.
Summit quarterback Destin Wade threw for 155 yards and rushed for 82 more in the Spartans' upset win over Independence. Converted wide receiver George Odimegwu had 71 yards in his positional debut.
Independence running back Caedon Williams had 120 yards on the ground in the game.
Lipscomb Academy running back Jaden Lyles ran for 102 yards, including an 85-yard breakaway touchdown, in the team's victory over Glencliff.
Franklin running back Greyson Bruce had 180 rushing yards in the Rebels' victory over Siegel.
Nolensville quarterback Ryder Galardi threw for four touchdowns in the team's big win against Antioch.
Ravenwood QB Brian Garcia had three touchdowns in the air and one rushing in the team's win over Centennial.
Photo from 2018 by Steve Wheeler.