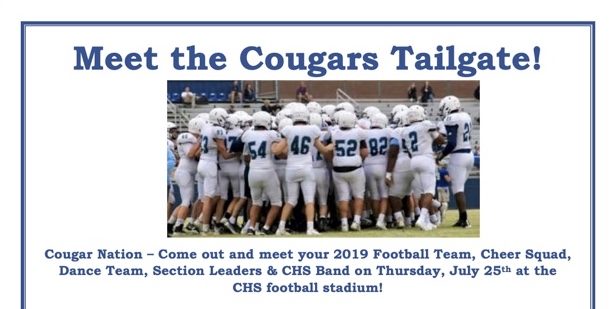 Centennial High School football fans get a chance to celebrate the opening of the season in style.
The school is hosting the Meet the Cougars Tailgate on July 25 at CHS's football stadium, where the football team, cheerleaders, dace team and band will be on hand to enjoy dinner and special presentations.
Special showcases of those that make the football festivities what they are will be the center of the night, with autographs and photos available for anyone interested. There will be free football posters available as well.
The CHS community can also take the opportunity to meet new school principal Dr. Meghen Sanders.
Centennial fans can also decorate their own tailgate inside the stadium for their chance to win a 2019-20 season sports pass to all CHS events. Door prizes are also possible.
Fans can also try to plunge a CHS coach in a dunk tank ($1 for two throws, $2 for five throws).
Zaxby's chicken sandwiches or hamburgers, chips and drinks are on the menu the $7 dollar option and hot dogs, chips and drink combos are available for $4. Special souvenir cups are available with any meal option for a $1 upgrade. Kona Ice will also be on deck.
Gates open at 5:00 p.m., while the event starts at 6:00 and ends at 8:30.
All proceeds go to the CHS football program.