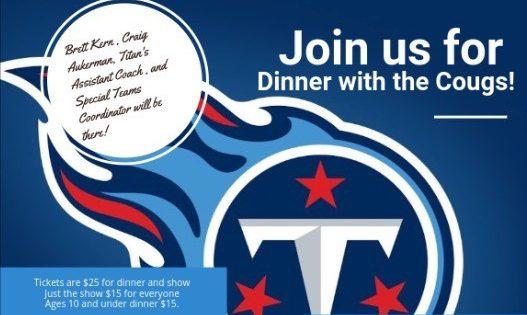 UPDATE: CHS has tentatively postponed this event to February 8, 2020. 
Though it's not quite football time in Tennessee, Centennial High School is getting a head start on Titans talk with a special event.
Dinner with the Cougs will invite Titans punter Brett Kern, special teams coach Craig Auckerman and other guests for a sports-filled evening on Thursday, July 18 at Centennial's PAC.
Sales from the event will benefit the Centennial softball team.
Chad Withrow of 104.5's Midday 180 show will emcee the event and lead the discussion on sports ranging from the professional level to high school. Autographs and photos will follow.
Outback Steakhouse will cater the event; the menu holds steak, chicken on the barbie, mashed potatoes and dessert.
The event starts at 7:00 p.m., with tickets available for dinner ($25) and the show or just the show ($15). Attendees 15-and-under can attend both parts of the evening for $15.
Tickets can be purchased at CHS from 7:30 a.m. to 3:30 p.m. or on the event website.