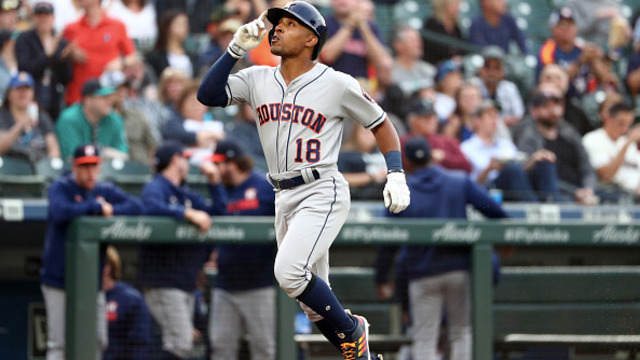 By David Boclair 
It is closing time for Tony Kemp in his Major League Baseball career.
He doesn't have to go home, but he can't stay where he is.
The Houston Astros will designate Kemp for assignment on Friday, which means he will be removed from the team's 25 and 40-man rosters. When that happens, under MLB rules, the team has seven days to trade him, release him or place him on outright waivers.
Because of the number of times he has bounced between Houston and the minor leagues, Kemp no longer is eligible to be sent down. An outfielder, he has spent the entire 2019 season to date with the Astros (he would have been designated for assignment at the end of spring training had he not made the MLB roster). But the return of several players from the Injured list have created a situation where there is no room for him.
In 66 games this season, Kemp has a .227 batting average with 23 runs scored and 17 RBIs. His career MLB average is .240.
A fifth-round pick by Houston out of Vanderbilt in 2013, Kemp has appeared in 239 games for the Astros and another 552 with their various minor league affiliates during his professional career.
The Centennial High School graduate has been a popular and productive player at nearly every level of his development but now will get any opportunity with a new organization.
Photo by Getty Images.