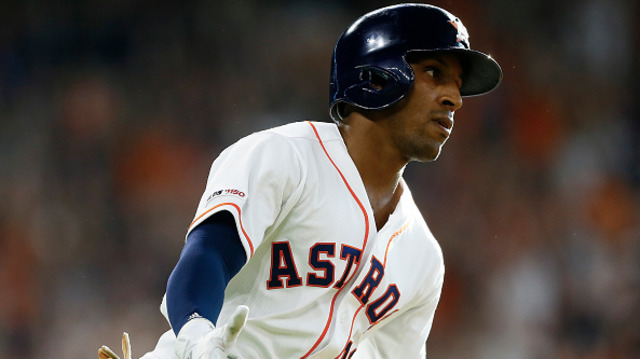 By David Boclair 
Tony Kemp bid a fond farewell to the Houston Astros and their fans Wednesday.
The Astros drafted the Franklin native and 2013 SEC Player of the Year at Vanderbilt. They developed him and gave him a chance to be a major league player. Finally, they traded him.
Houston sent the versatile 27-year-old to the Chicago Cubs shortly before the MLB trade deadline. Such a move had been expected for close to a week after Kemp was designated for assignment late last week.
Hours after the deal was finalized, he took to social media to offer his gratitude.
Kemp's complete farewell message:
Houston, you will always have a special place in my heart. You gave an undersized kid from Franklin, TN a chance to live out his dream. Thank you to the Astros front office, coaches and teammates for allowing me to be a small part of some of the best teams in Astros' history. To the fans, I've seen ALL of your messages and can't say how much I love you all for the constant support over these last 6 years. Out of all the hugs I've given, Houston, this last hug to you I'll remember forever.
Kemp spent part of the past four seasons with the Astros and appeared in 239 games for them, which included time at all three outfield positions, second base and designated hitter. He batted .240 with 14 home runs, 58 RBIs, 16 stolen bases and 81 runs scored and endeared himself to the community with Hugs for Homers, a social initiative that grew out of his natural passion for the game and his teammates.
With Chicago, which traded veteran catcher Martin Maldonado for him, Kemp likely will have a chance to be the starting second baseman and will provide valuable outfield depth for a team in the thick of the National League playoff race.
"Leaving that group behind was emotional because of how genuine everyone in that clubhouse was day in and day out," Kemp said via MLB.com. "From the parking garage staff, clubhouse staff, to the community relations team, and to the coaches and teammates, each person brought their best attitude each day, and that's why the Astros are one of the best organizations in baseball.
"As for this next chapter, I'm excited to join the Chicago Cubs and help contribute in any way to help this team win."
Photo from Getty Images.