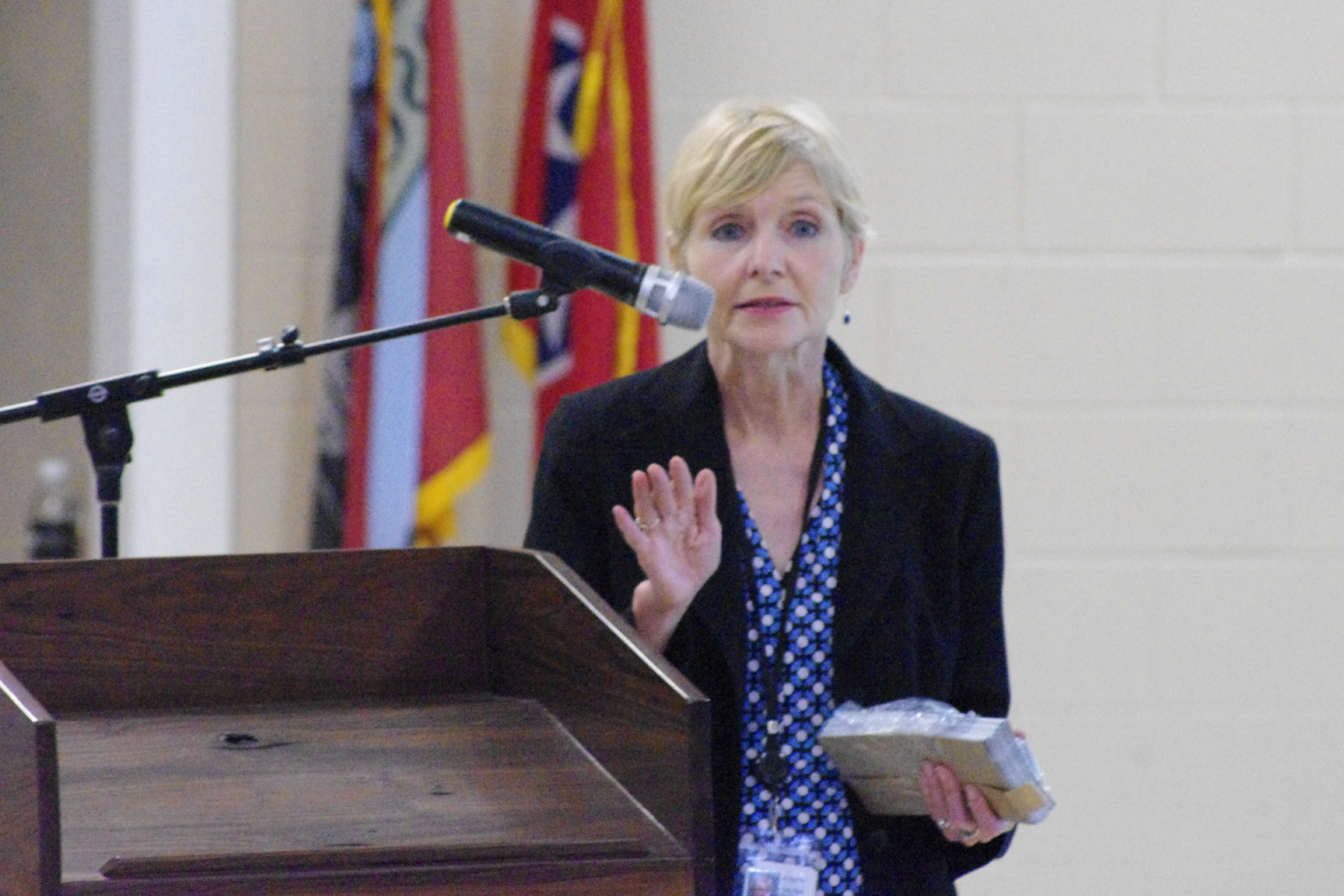 PHOTO: Census Bureau Recruiting Assistant Gretchen Anderson speaks during Tuesday night's meeting of the Thompson's Station Board of Mayor and Aldermen. / Photo by Alexander Willis
BY ALEXANDER WILLIS
As the U.S. Census Bureau continues to prepare for the upcoming 2020 census, its staff are reaching out to Williamson County communities to inform and recruit residents in the hopes of counting as many people as possible.
On Tuesday, Census Bureau Recruiting Assistant Gretchen Anderson spoke during a meeting of the Thompson's Station Board of Mayor and Aldermen, urging residents to consider working for the census.
"I just want to emphasize to you guys about how important next year is going to be for our federal funding for our schools, for our firefighters, for our police department [and] for our roads," Anderson said. "We haven't done this in 10 years, and this is our one chance until 10 years from now to count everybody. And for everybody who doesn't get counted, we lose out on approximately $2,000 in federal funding."
Anderson continued, saying the town of Thompson's Station was "a challenge" in terms of taking an accurate census, as well as recruiting residents due to its extreme rural character, and lack of a central hub.
Part-time Census Bureau employees are still in high demand, with Anderson saying they had reached 62 percent of their overall hiring goal for the upcoming 2020 census in Williamson County, but that of all municipalities in Williamson County, Thompson's Station saw the lowest numbers in terms of recruitment.
Anderson said the best way residents can help the 2020 census be as accurate as possible for Thompson's Station, which would in turn provide more federal funding for things like roads, schools and more, would be to "sign up to work in their home community."
"Ideally, we'll have a person working in each HOA and every area," Anderson said. "For the county, we are at 62 percent of how many we want to hire. We've met our progression goals, but Thompson's Station is the lowest in the county, just because it's kind of hard to reach people."
Positions with the Census Bureau start at $17 an hour and workers can choose their own hours in both the amount and the days. It also offers the chance for workers to work from home, offers paid training and 58 cents per mile for traveling expenses.
The majority of positions the Census Bureau is looking to fill would be for enumerators, also known as census takers. Census takers typically work in their respective communities interviewing residents who have not responded to the Bureau's questionnaires, updating addresses and organization data.
Those interested in working for the Census Bureau are encouraged to call 1-855-562-2020, or to apply online by clicking here.