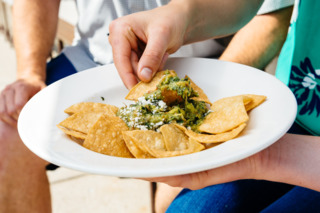 NASHVILLE SCENE
Burger Up Franklin has long prided itself on the kitchen's responsiveness to various allergy issues and food preferences among their patrons, so they've gone the next step to include some new items on their summer menu that are designed to address the needs of their customers.
Chris Payne is a restaurant industry veteran who became Burger Up Franklin's general manager in early 2019, and he has been instrumental in developing the new menu, which clearly marks items safe for those with dining restrictions for gluten-free, vegetarian and vegan items.
"We've been safely serving guests with common food allergies or preferences for a long time, and our menu finally reflects that. If a particular allergy is not addressed on the menu, guests can talk to their server, and we will be able to provide extensive information," says Payne.
One of the most notable allergy-friendly items on the menu is Burger Up's jump on the Impossible Burger bandwagon. The "Impossible Burger" is described as "a vegetarian plant-based patty that is high in protein, but with no cholesterol and the iron and fat content equivalent to that of an 80/20 beef patty." Burger Up serves their version on a gluten-free bun, the "Impossible Burger" topped with fresh spinach, grilled cremini mushrooms and Umami sauce.
Other allergy-friendly menu options include the Triple Berry Salad (gluten-free), quinoa bowl (vegan and vegetarian) and grilled chicken wings (gluten-free). Meat lovers aren't ignored though, thanks to a new Black & Blue Burger featuring Bear Creek Farm beef topped with fresh arugula, red onion, blue cheese crumbles and blackening seasoning.