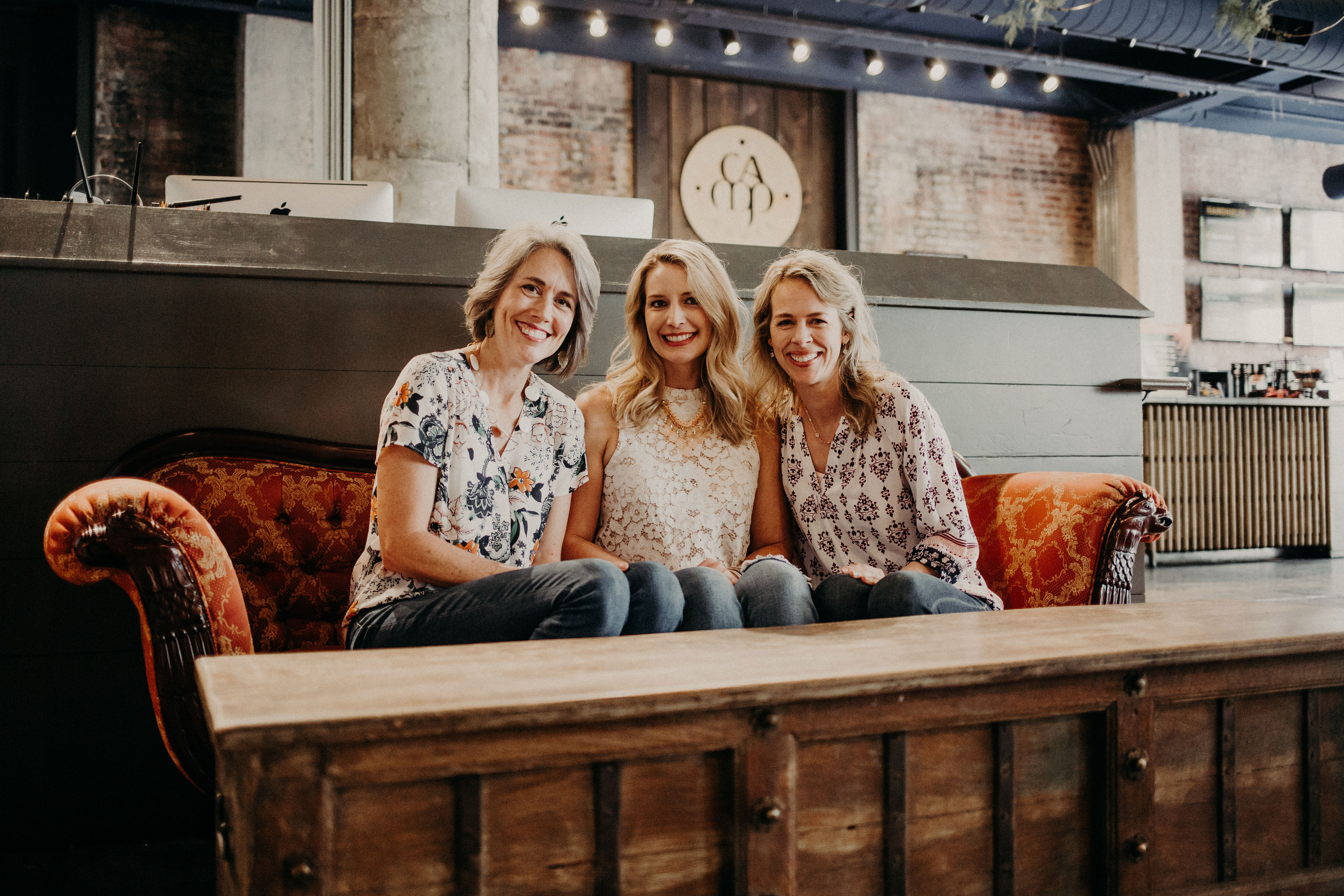 PHOTO: Left to right: Co-hosts Julie King, Mindy Sillyman and Marie Perrigo pose for a photo. / Photos by Abigail Fleishour
By RACHAEL LONG
When Marie Perrigo started a podcast last year with two of her friends, she didn't expect it would be so successful.
The introductory episode of Midlife Matters — a weekly podcast for women in the "middle years" — aired in October of 2018. Seated around co-host Julie King's dining room table in late June, Perrigo said the podcast had seen more than 10,000 downloads. 
Now, Perrigo wants to get the word about Midlife Matters out in her community.
The idea to create this particular podcast was born out of a desire to connect with other women in the middle years of their lives who are experiencing a unique set of challenges, joys and everything in between. 
In February 2018, Variety reported more than 500,000 active podcasts on Apple Podcasts. In an age where everyone is making a podcast, Perrigo said she feels like the market for a podcast about women her age was still mostly untapped. 
"There are tons of podcasts for women with babies, preschoolers and elementary-aged kids, but then it really kind of drops off," Perrigo said. 
So with an idea in mind, she began thinking about the logistics. How often would the podcast air? Who would help host it? What would they talk about?
Perrigo got to thinking about a couple of her good friends, and invited them aboard. 
The first full episode — "Get to Know Your Hosts" — is just over 35 minutes long and is exactly as it sounds: an episode introducing the three hosts. 
Getting started
Altogether, the podcast is hosted by Perrigo, 47, King, 53, and Mindy Sillyman, 40, who now lives in Pennsylvania. Between the three of them, they have 12 kids between the ages of 11 and 27. 
"It's kind of good to have all the ages represented," King said, noting that of the three hosts, she had most experienced the "empty nester" lifestyle.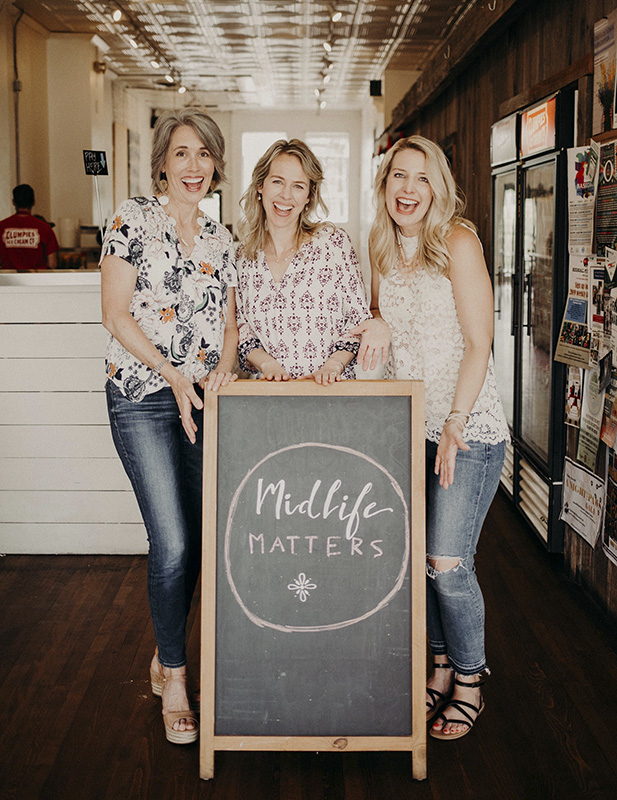 Perrigo agreed that the large age range of their combined kids is what allows them to speak to a wide variety of issues and experiences.
"There's a lot of resources out there — book wise, podcast wise — for becoming a parent. But there's not much out there for preparing yourself for when that job comes to an end," King said. "And it's something you really should prepare for because it catches you off guard and it can be hard to navigate all those feelings."
Sometimes, King said, those feelings can look like loneliness. 
"We kind of felt that, as you get older and your kids get older, you kind of feel a little more isolated because people aren't always willing to talk about things," King said. "As kids get older, problems get a little more difficult to talk about and it's not really your story to tell, so you keep it private."
The podcast — they hope — can be a platform for women experiencing that sense of isolation to draw comfort. 
Although their children are still a big part of their lives, the hosts agreed that parenting covered about less than half of the topics discussed in Midlife Matters. Instead, the women try to focus on "all the topics that keep women in the middle years up at night."
"And it's not always your kids," Perrigo said with a laugh.
Some of the topics covered thus far include how relationships and marriages change with time, embracing self care, raising "average" kids, fighting entitlement, and aging gracefully. Whatever the topic may be, Perrigo said there is a lot of researching and preparation that goes into each episode. 
Because they never claim to be experts about the topics they cover, Perrigo said the hosts always try to come prepared with facts, background knowledge and sometimes even invite experts on the show. 
"We don't just sit down and talk," Perrigo said. "We really do have a goal in mind."
As for life lessons and takeaways, Perrigo has some ambitions for Midlife Matters. 
"I hope they'll be encouraged," Perrigo said of listeners. "I hope they'll feel less alone in whatever topic we're talking about. I hope they'll get ideas they want to apply to their life. And I hope they'll have had fun…Like if you went for coffee with your friends, how you might walk out and think, 'Oh, that was so good to share all that.'"
Production
The hosts hope listeners will feel like they are sitting around a kitchen table chatting over  coffee, but ironically, they are actually never in the same room together during production. With Sillyman in Philadelphia, Perrigo said they have found the best way to record episodes is by using Skype to set up a group call.
Even Perrigo and King — who still live in Brentwood — don't meet in the same room to record. A novice podcast producer, Perrigo has found that the audio quality of episodes is pretty good.
"A lot of people can't believe that we're not in the same room together when they listen," Perrigo said. "Which is a compliment."
Perrigo said they try to stay one to two weeks ahead of schedule when it comes to podcast production, especially in the summer when vacations may interfere. 
"We feel like it needs to come out every Wednesday," King said, noting that the trio had just recorded two episodes in anticipation of July vacation absences. 
The podcast often features guests to speak about topics of which they do not have expertise, but which may still appeal to their audience. One such guest was Nashville-based stylist Meredith Mathis.
"Sometimes, at this age, you don't know what to wear," King said. 
Mathis is featured on episode 24, "What to Wear with Meredith Mathis."
They even take listener questions, which the women said often become ideas for future episodes. Perrigo keeps a notebook with a running list of podcast topics. Sometimes she pulls ideas from conversations with friends; other times inspiration strikes in the form of an article she read. 
"You just never know where your next topic is going to come from," Perrigo said. 
Where —and how— to Listen
One of the biggest challenges the women have encountered has to do with the most basic aspect of podcasting: listening. More specifically, how to engage an audience of women who may not know what a podcast is or how to find it. 
There are several ways to listen to podcasts nowadays, including on Apple Podcasts, Spotify, iHeart Radio, Stitcher, TuneIn, Google Podcasts and more. For iPhone users, try this ultimate guide to using the Apple Podcasts application on your device. 
If you don't have a smart phone or are not interested in using an app, there are several other ways to listen. All Midlife Matters episodes can be found on the podcast website here. From there, you can stream each episode or download for on-the-go listening. 
Perrigo has even set up a Midlife Matters YouTube page where all the episodes are hosted. 
The podcast can also be found through social media channels including Facebook and Instagram. 
The hosts can be reached for questions or feedback by email at midlifematterspodcast@gmail.com.