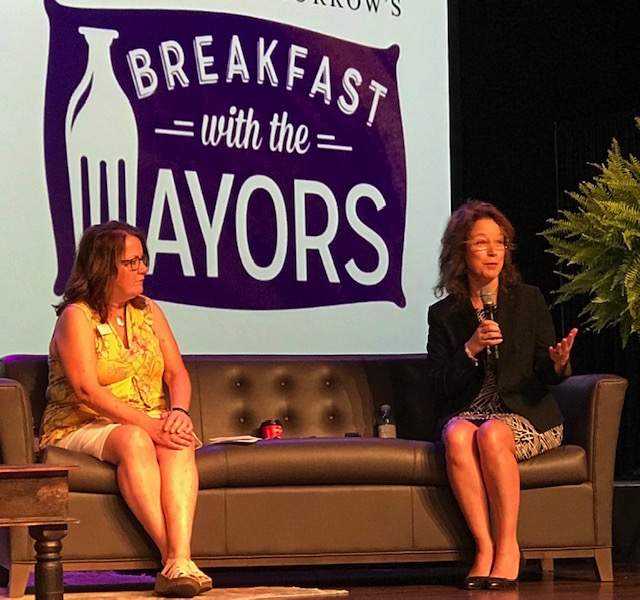 PHOTO: Franklin Tomorrow Executive Director Mindy Tate listens as Liz McLaurin explains the mission of the Land Trust of Tennessee. / Photos by John McBryde
By JOHN McBRYDE
With signs of growth seemingly everywhere across Williamson County, it may come as a surprise to some that Williamson has preserved more land and property through the Land Trust of Tennessee than any other county in the state.
The organization's president and CEO, Liz McLaurin, pointed that out during Tuesday morning's Breakfast with the Mayors at Rolling Hills Community Church in Franklin. Her presentation was part of the Franklin Tomorrow event's theme titled "Community Character & Williamson County's Future," and also featured Williamson County Planning Director Mike Matteson and city of Franklin assistant Planning Director Kelly Dannenfelser.
Williamson County Mayor Rogers Anderson and Franklin Mayor Ken Moore led the discussion.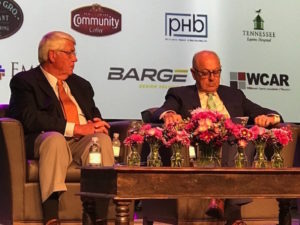 "In Williamson County, we protect nearly 7,000 acres through 60 projects," McLaurin said. "It is the largest concentration in Tennessee. Just imagine the generosity of so many landowners who have been donating conservation easements. … We have the perpetual responsibility for monitoring those conservation easements each year."
Anderson told the sizable audience of about 400 that more than 60 percent of land in the county has not been touched by developers.
"Personally, I would like to see that land stay undeveloped or developed in a way that you want," he said, echoing part of what he stressed at last week's State of the County address. "Over the next six-to-eight months, it is so important that you attend and make comments about how we develop our community, the space, the land, the acreage."
One of those ways is to get involved in the county's Williamson 2040 planning process, according to Matteson. It's the county's update to its comprehensive plan.
More: Williamson County faced with 'now or never choice' on preserving rural character, study finds
"This is an extremely important project," Matteson said, "and given the amount of growth we've been seeing and the growth forecast we've received, we think this comes at a real pivotal time. The comprehensive plan describes the kind of character a community aspires to be."
Much of the focus of Matteson's presentation had to do with community character, a combination of an area's natural and built environment.
"We are extremely fortunate in Williamson County to have exceptional community character," Matteson said. "We should be extremely proud of that. I think the quality of our environment is one of those intangible things that really help to draw people here.
"They come, of course, for the jobs, the thriving economy, our excellent schools. I really do think that the quality of the community from a character standpoint really aids in that. That's something we should work very hard to protect, to preserve, and to accentuate those positive aspects of the character we enjoy. And also to try to prevent the things that would detract from that desired character."
More: City of Franklin releases public review draft of updated zoning ordinance
Dannenfelser gave an update on the revised Franklin zoning ordinance that has been drafted over the past several months as part of the city's comprehensive plan known as Envision Franklin. The new ordinance has gone through several public review sessions, and more are planned. Public meetings are scheduled for Aug. 15 and again Sept. 20, both from 5-8 p.m. at City Hall in downtown Franklin.
"There will be more public meetings in the fall and winter," Dannenfelser said, "and our goal is adoption of the ordinance in March of 2020. If you can't make any of those, you can always call, email, set up an appointment. We want to be here so that you feel comfortable with this ordinance update, because in the end we want an ordinance that works for our community, it works for our businesses, it works for all stages of life, it works economically, and it works for the character of Franklin."