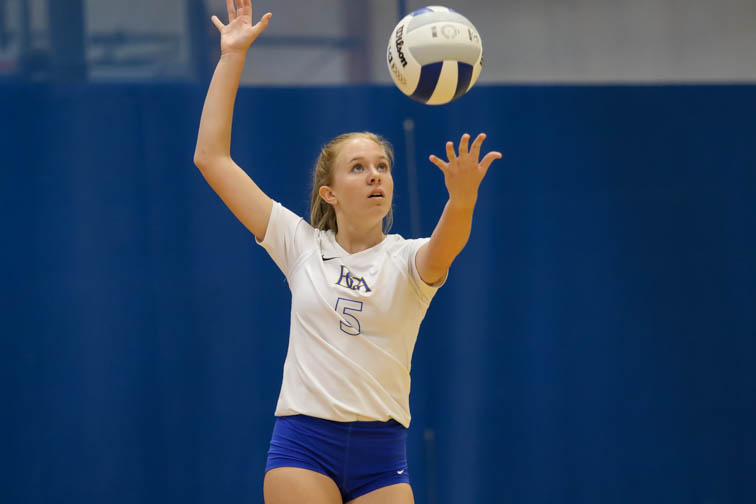 STORY BY CHARLIE BATEMAN | PHOTOS BY CARL EDMONDSON, JR. 
The Battle Ground Academy Wildcats volleyball team showed their might in the 3-0 victory over the Christ Presbyterian Academy Lions on Tuesday night at BGA (25-16, 25-21,25-18).
"This is a great turning point for us," said BGA head coach Tatiana Alvarez. "I felt like the new dynamic of our team with the age of our players and new players adding things has been locking in for us."
"BGA played a more consistent match than we did today," said CPA head coach Embrey Brannon. "We really struggled in our serve-receive and it was our largest area of weakness. They [BGA] just played a great full round match."
BGA took the first set by controlling the spike game in front of the net 25-16.
It was a tense back and forth second set that led to several tie outcomes until BGA got some timely aces to pull through 25-21.
The Wildcats took command in the third set, continuing their success of spiking the ball in front of the net and domination of the 50/50 balls up front 25-18.
BGA improves their record to 7-4 on the season, with a young team that only includes two seniors.
"We have worked hard on establishing the culture of our program," said Alvarez. "Our juniors do as well as our seniors in providing leadership for our team, which is great for the longevity of our program."
CPA will take on Grace Christian Academy at Grace Christian on Thursday night.
"I hope we can increase our level of intensity in play," said Brannon. "Grace Christian Academy is a solid program. They rally on long points, so we are going to need to be firing on all cylinders."
BGA will take on district rival FRA at Franklin Road Academy on Thursday night.
"We are hoping for redemption," said Alvarez. "FRA took us to five sets and beat us at home last time we saw them. I know the kids are looking forward to putting in the work and applying it on the road to walk away with a win."