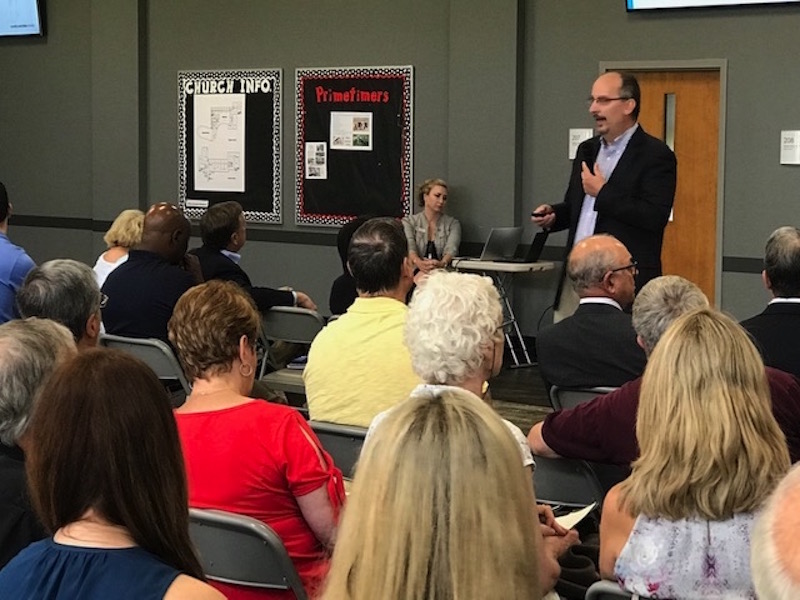 PHOTO: Doug Delaney from WSP Nashville gives an update on the the South Corridor Study that is underway on finding improvements to transportation in the region that includes Davidson, Williamson and Maury counties. / Photo by John McBryde
By JOHN McBRYDE
Officials leading the way on the South Corridor Study had some good news and some challenging news during Monday morning's FrankTalks lecture at First Presbyterian Church in Franklin.
Doug Delaney, senior supervising planner for the consulting firm WSP Nashville, and Michelle Lacewell, deputy director for the Greater Nashville Regional Council, presented an update on the study to a roomful of government and community leaders as well as citizens interested in improving transportation options along the 35-mile corridor between downtown Nashville and southward through Williamson County and to Maury County.
The study was publicly launched earlier this year and received public input through a series of meetings in the spring in Franklin, Brentwood, Columbia and Nashville. The major transportation routes within the south corridor are Interstate 65, Franklin Pike (SR-6/US 31) and the CSX railway.
"We're very early on [in the process]," Delaney said. "We're really looking for input and looking for ideas on how to better connect the communities along this corridor and provide better opportunities for mobility along the corridor."
Study organizers gathered input from the spring meetings for analyzing over the past few months, and presented some of the findings at the Franklin Tomorrow event. There will be more public meetings toward the end of August, according to Delaney, with exact dates, times and location to be determined. Delaney said the plan is to make recommendations in early November and have everything wrapped up by the end of the year.
There is quite the challenge, both Delaney and Lacewell said.
Not surprisingly, for instance, the community feedback showed that 99 percent of those surveyed travel by personal car. If other options for transit aren't forthcoming soon, the roadways will be at capacity one day.
"More people means more cars," Delaney said. "More jobs means more people traveling from their homes to their jobs and an increase in the amount of traffic on the road. So the time you spend in traffic, unfortunately, is only going to get worse as more people move here and more jobs locate here."
Delaney pointed out that nearly 20 percent of survey respondents used mass transit at least semi-regularly, meaning there is potential for that number to grow if the system can be improved.
"About 19 percent said they use public transportation either daily or when they travel elsewhere," Delaney said. "So we think there's a great market of people that, if transit was more available and faster and more efficient, they might be more willing to use it."
Of the nine potential transportation solutions listed during the presentation, some were conventional bus, light rail, commuter rail, monorail, intelligent transportation systems and other emerging technologies and ridesharing or carpooling.
A few questions and comments from the audience did indicate some pushback to the study or the presentation of it. One person pointed out a study that has shown a decline of people using mass transit in certain areas of the country, and wanted to be sure the South Corridor Study wasn't necessarily mandating public transportation for the region.
Lacewell insisted the study isn't doing that.
"That's why we do these studies," she said. "This is a study, not a project we're putting in front of you and asking you to pay for it. This is an opportunity for everyone across the region to tell us what they want as the best way for them to move across the region."
The South Corridor Study presentation is also on the agenda for Tuesday's work session of the Franklin Board of Mayor and Aldermen scheduled for 5 p.m. at City Hall.