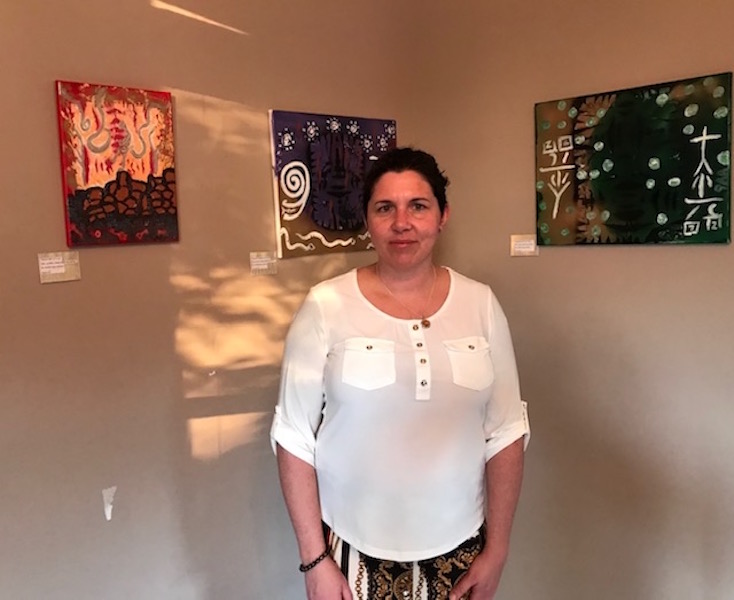 PHOTO: Judith Ann Arnold drove all the way from Washington, D.C., to display her art at Hope Church during Friday's Franklin Art Scene. / Photos by John McBryde
Some artists go to great lengths to participate in the monthly Franklin Art Scene.
Just ask Judith Ann Arnold, who drove for more than 10 hours to take part in the August edition. The Clarksville resident is doing a summer internship with the Office of Management and Budget in Washington, D.C., but that didn't stop her from making the long trek to downtown Franklin for Friday's Art Scene.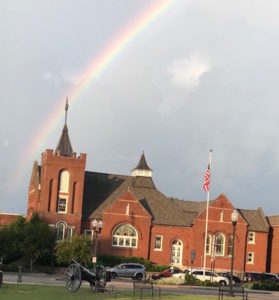 "This is my first time at this event," Arnold said from Hope Church on Fourth Avenue South, where her abstract and contemporary art was on display. "I've been bugging the Art Scene people for a while now, and they finally put me on the list. I drove 10½ hours from Washington, and tomorrow I'll have to drive back. It's worth it, though."
Arnold, who retired from the U.S. Army to pursue her love of art, creates contemporary abstract paintings that are mixed-media productions made with a variety of mediums including oils, acrylics and spray paint. She lived in Florida and studied art at Saint Petersburg College before moving in 2014 to Clarksville, where she was stationed at Fort Campbell.
Arnold has been painting since she was a young girl, and said much of her inspiration comes from "my dreams, or thoughts in my head about life."
Though Friday's Art Scene was bookended by rain and storms, there was enough dry time for folks to take in various art at more than 20 locations.
The next Franklin Art Scene will be Friday, Sept. 6.