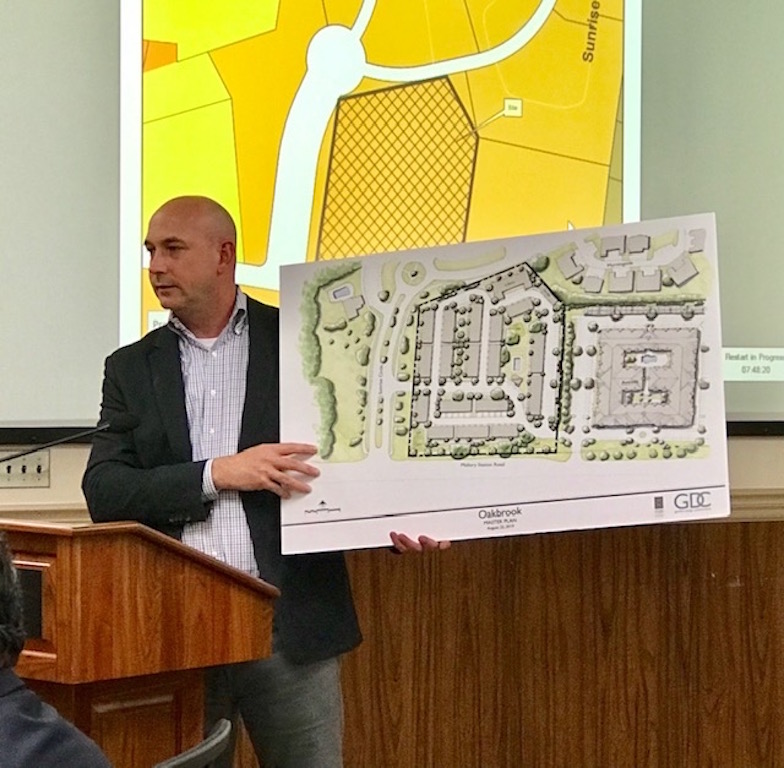 PHOTO: Greg Gamble of Gamble Design Collaborative holds one of the visuals for a proposed development near Mallory Station Road during the work session Tuesday for the Franklin Board of Mayor and Aldermen. / Photo by John McBryde
By JOHN McBRYDE
Franklin aldermen were told Tuesday night that the city would stand to save over $2.6 million if they vote in two weeks to approve a planned refinancing of two outstanding bonds that were issued in 2007 and again in 2010.
During the work session for the Franklin Board of Mayor and Aldermen, Kristine Brock, assistant city administrator for Finance and Administration, outlined a plan that would in essence restructure a couple of separate loans that were taken on different projects.
In 2007, the city issued a $20 million variable rate bond through the Franklin Public Building Authority to finance costs for the new Police building, according to the resolution. In the same year, the city entered into an interest rate swap agreement for the duration of the bond issue, with termination in 2037. The bonds are held by PNC Bank with a loan tender date of Dec. 11 this year, which requires action of the BOMA to either extend the loan agreement with PNC Bank or refinance.  Principal payments are scheduled annually from 2025 to 2037.
Three years later, the city issued a taxable Recovery Zone Economic Development Bond in the amount of $15,725,000 for the purposes of funding road improvements.  Principal payments are scheduled annually from 2024 to 2030. These bonds are eligible for subsidy subject to annual funding by the federal government's budget and are eligible for early redemption without penalty on March 1, 2020.
Brock and City Administrator Eric Stuckey both strongly recommended refinancing the 2007 bonds and restructuring its principal repayment schedule for first principal payment in 2022 versus 2025 with final maturity in 2032 instead of 2037. They also pushed for the termination of the interest rate swap agreement to allow for refinancing of the bonds as traditional fixed rate debt of the city of Franklin. As part of the refinancing, there would be an appropriation of $2.5 million from General Fund balance to partially pay the termination cost of the swap.
They also recommended refinancing the 2010 Recovery Bonds as traditional fixed rate debt and restructuring principal payments to begin two years earlier than planned (2022 versus 2024).
"[Refinancing] does several things," Stuckey said. "We pay principal sooner, we retire debt earlier, we eliminate certain risks associated with this complex structure, and we realize over time in excess of $2.6 million. It does add some funding capacity in the [years] 2033-2037 range that can help absorb capital project costs or operating costs, etc., and all those benefits are why we're recommending this."
Aldermen will be presented with a resolution to vote on the plan at the Sept. 24 board meeting, and if they approve, closing on the refinancing is expected by late November.